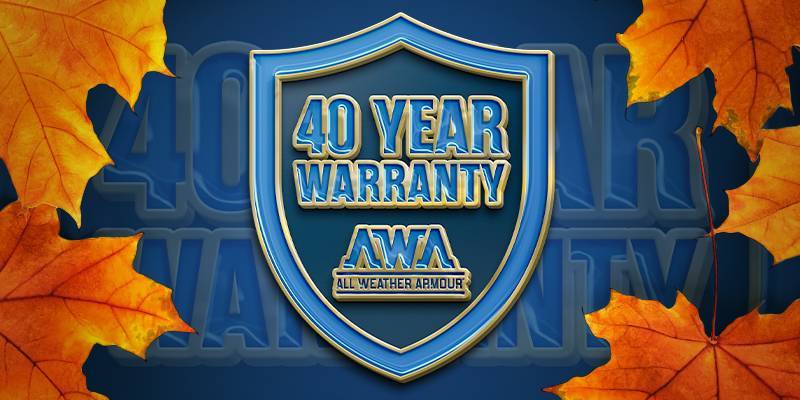 WHY CHOOSE ALL WEATHER ARMOUR?
"Any Project - Any Climate - Any Season - We Have a Solution Just Right for You"
Debris and ice formations such as dams will cause damage to all types of buildings and roofs. These formations, regardless of size, create excessive weight for rooftops. They also block off current runoffs necessary for draining. Before you know it, this causes water damage to both the interior and exterior of your property. All Weather Armour IceArmour Roof Ice Melt Systems protect your investment by keeping your gutters clear year round.
All Weather Armour – IceArmour Roof Ice Melt Systems provides the maximum heat transfer in the industry. The technology and design behind our systems eliminates the serious dangers that are associated with snow and ice buildup.
We have industry-leading warranties on our systems: 40 years on All Weather Armour Ice Melt Roof and Gutter Systems and 10 years on the All Weather Armour Self Regulating Heat Cables.
The unique and affordable design of an All Weather Armour IceArmour Roof Ice Melt System reduces the consumption of energy while maximizing heat transfer. The low cost and reduced environmental impact make this the ideal choice for many homeowners and contractors. Unlike many other gutter protection structures, ours does more than simply eliminating icicles and ice dams. It works year round. During the warmer months, it stops leaves and debris from clogging gutters as well.
Traditional zig-zag heating cables are an eye sore, and can be dangerous as they are exposed to the elements and wild life. The All Weather Armour IceArmour Roof Ice Melt System provide a sleek addition to any exterior. The aesthetic look appeals to not only homeowners, but architects as well.
Our systems utilize a stainless steel mesh and aluminum or stainless steel frame. This helps keep gutters free of debris while providing a durable yet appealing design.
All Weather Armour uses the only the best materials. Aluminum extrusions provide the best heat transfer and offer the strength to survive the most menacing environments. The Kynar 500/Kylar 5000 paint finish retains its integrity far longer than traditional powder coating to withstand against chipping and/or fading, while not impeding thermal dynamic performance.
All Weather Armour – Ice Melt Roof and Gutter Systems provide guaranteed safety by eliminating the danger of melting ice on entrance ways, walkways and high traffic areas. Unfortunately, accidents do happen and the results could end in an ugly lawsuit. Avoid this problem best by preventing it. A Gutter System is necessary for businesses and other high traffic areas.
Ice formations and dams can lead to expensive repairs such as damage to roofs, exterior and interior walls and so much more. Eliminate this risk with the year-round protection that an All Weather Armour IceArmour Roof Ice Melt Systems provide.
US 9,890,535 B2
US 9,765,526 B2
US 9,487,955 B2
US 8,438,787 B2
US 8,079,183 B2
US D905,833 S
US D909,546 S
US 11,136,762 B2
Others Pending