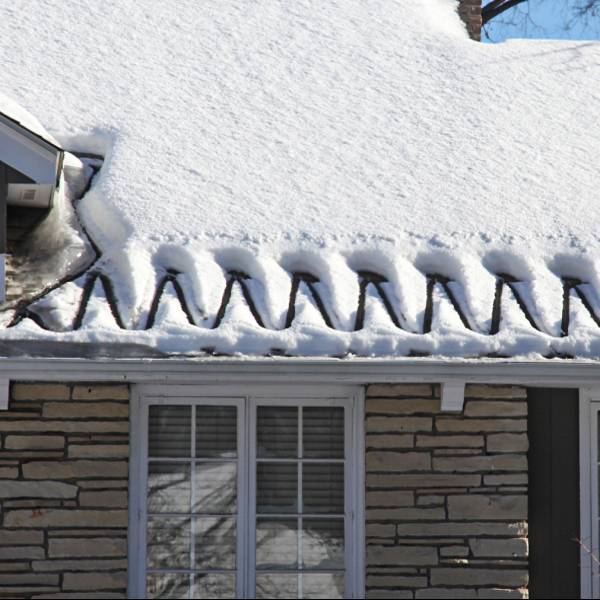 WILL A ZIG-ZAG HEAT CABLE STOP ICE DAMS?
Ice Dams have been an enemy of homeowners and business for generations. They form over time and create a block. When this happens, water has nowhere to drain to and pools behind the blockage, eventually leaking into the structure. Up until recently, Zig-Zag gutter heat cables have been the only way to control the ice from building up on roofs and in gutters. Although they are in wide use, they have proved unreliable, are dangerous and costly to operate.
Zig-Zag Heat Cables have many disadvantages including:
Limited melting capabilities
Deteriorates quickly when exposed to the elements
Unsafe; if not properly cared for can create a fire hazard
Unsightly in appearance
Not energy efficient and very costly to operate
Uneven Zig-Zag configurations create ice dams
Maintenance intensive
Poor life expectancy of 1-2 years
At All Weather Armour, we specialize in a variety of ice dam prevention products that are designed to eliminate ice damage even in the most extreme conditions. They are able to do this without the dangers traditionally associated with the Zig Zag cables. AWA ArmourGuard Ice® Heated Gutter Guard not only utilizes what consumer reports declares the number one rated technology to eliminate clogs, it also offers four season protection by eliminating icicles and ice dams that form. Additionally, our IceArmour® Heat Panels eliminate ice dams that form on the eave or valleys of your home.
In order to stop ice dams from causing damage to your home, or even forming in the first place, trust in All Weather Armour.
US 9,890,535 B2
US 9,765,526 B2
US 9,487,955 B2
US 8,438,787 B2
US 8,079,183 B2
US D905,833 S
US D909,546 S
US 11,136,762 B2
Others Pending